Key Considerations to Preventing Mold During Construction
11/9/2023 (Permalink)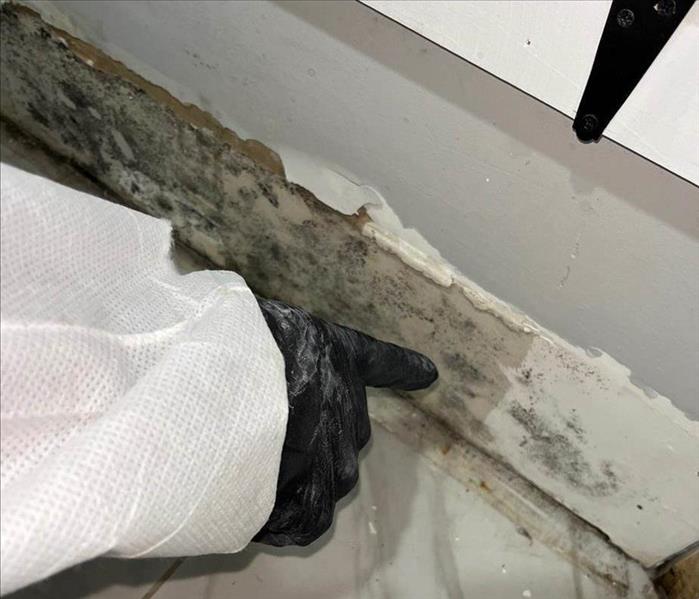 Remember, mold prevention is a cost-effective investment in the long-term durability and safety of your buildings.
Mold prevention is a critical aspect of ensuring the longevity and safety of any structure, and it all starts with the construction phase. By implementing the right techniques and materials, you can significantly reduce the chances of mold taking hold in your newly constructed buildings. Let's dive into some best practices for builders and contractors in the Philadelphia area.
Proper Drainage
Philadelphia is no stranger to rain and humidity, making proper drainage a top priority. Ensure that your construction site has effective grading and drainage systems in place to divert water away from the building's foundation.
Waterproofing
Invest in high-quality waterproofing materials for foundations, basements, and crawl spaces. This extra layer of protection helps prevent water intrusion, a common precursor to mold growth.
Site Preparation
Thoroughly prepare the construction site before building. Remove any existing vegetation, tree roots, or debris that can trap moisture against the building's foundation.
Effective Ventilation
Adequate ventilation is essential to keep moisture levels in check. Incorporate proper ventilation systems into the building's design to ensure air circulation and reduce humidity.
Use Mold-Resistant Materials
Consider using mold-resistant materials, such as mold-resistant drywall and treated lumber, where appropriate. These materials are less susceptible to mold growth.
Control Moisture During Construction
Maintain a dry construction site. Cover building materials to protect them from rain and moisture, and use dehumidifiers when necessary.
Regular Inspections
Conduct regular inspections during the construction process to identify and address any potential moisture issues or leaks promptly.
Educate Construction Crews
Ensure that your construction crews are educated about the importance of mold prevention. Teach them to recognize potential mold-prone areas and how to address them.
Gutters and Downspouts
Install gutters and downspouts to direct rainwater away from the building's foundation. Keep them clean and well-maintained to prevent overflow.
Landscaping Considerations
Plan landscaping to promote proper drainage. Use sloping and grading techniques to direct water away from the building.
Monitor Humidity Levels
Use humidity monitoring systems to keep track of indoor moisture levels during construction and after occupancy. Address any spikes promptly.
Implementing these construction best practices can go a long way in minimizing the risk of mold growth in your Philadelphia-area projects. By focusing on proper drainage, waterproofing, site preparation, and other preventative measures, builders and contractors can create structures that are not only sturdy but also mold-resistant.
Remember, mold prevention is a cost-effective investment in the long-term durability and safety of your buildings. If, despite your best efforts, you encounter mold issues, don't hesitate to reach out to SERVPRO® of South Philadelphia/SE Delaware County for professional mold remediation services.